Shopping Cart
Your Cart is Empty
There was an error with PayPal
Click here to try again
Thank you for your business!
You should be receiving an order confirmation from Paypal shortly.
Exit Shopping Cart
The beauty of the solitary, often snow-capped, stratovolcano, known around the world as Mount Fuji, rising above villages and tree-fringed sea and lakes has long been the object of pilgrimages and inspired artists and poets.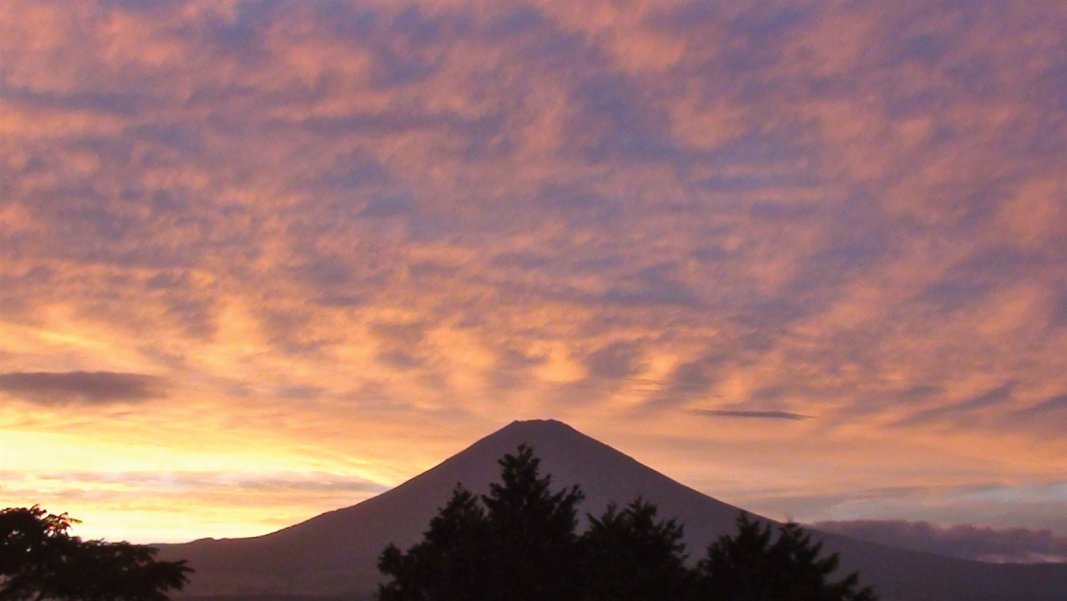 The inscribed property consists of 25 sites which reflect the essence of Fujisan's sacred and artistic landscape. In the 12th century, Fujisan became the centre of training for ascetic Buddhism, which included Shinto elements. On the upper 1,500-metre tier of the 3,776m mountain, pilgrim routes and crater shrines have been inscribed alongside sites around the base of the mountain including Sengen-jinja shrines, Oshi lodging houses, and natural volcanic features such as lava tree moulds, lakes, springs and waterfalls, which are revered as sacred.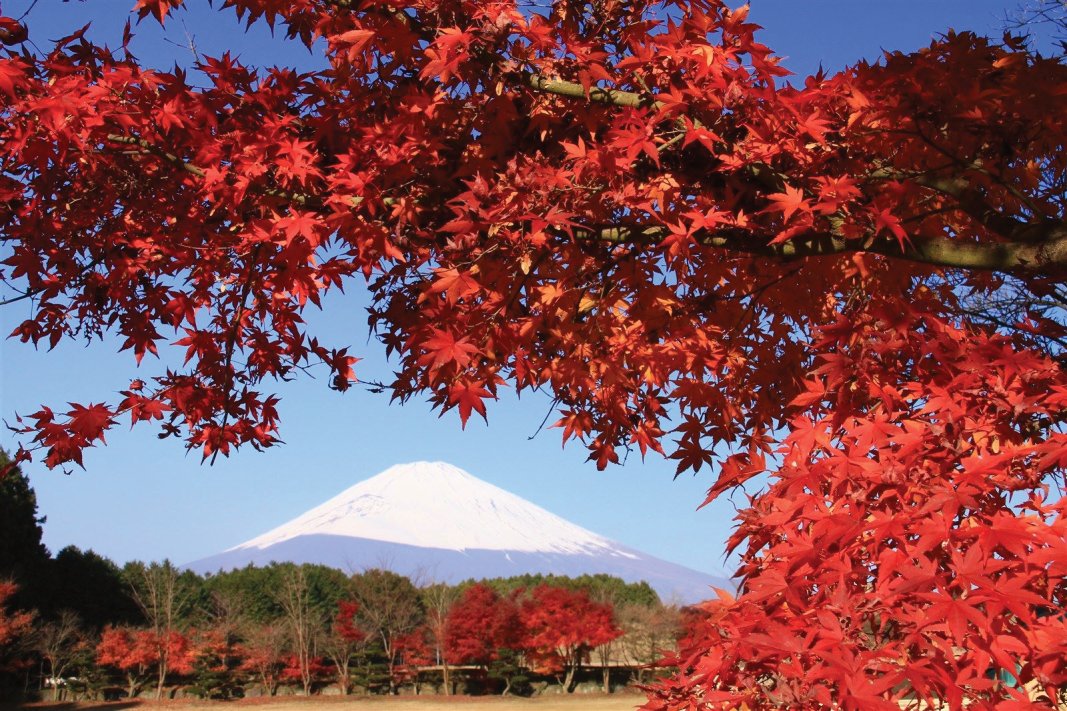 Its representation in Japanese art goes back to the 11th century, but 19th century woodblock prints of views, including those from sand beaches with pine tree groves have made Fujisan an internationally recognized icon of Japan and have had a deep impact on the development of Western art. 
*For the full story see the Unesco site here: http://whc.unesco.org/en/list/1418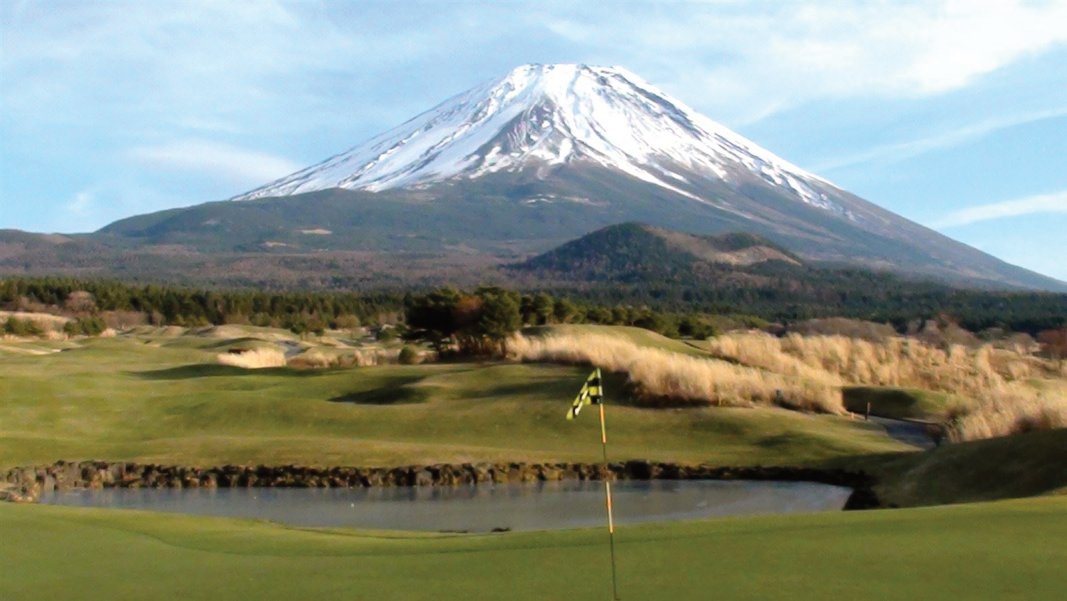 This is a feature I wrote for Golf Teaching Pro magazine's winter 2013 edition. 
You can read it here below or on this
PDF File
. 
-Enjoy and let me know what you think!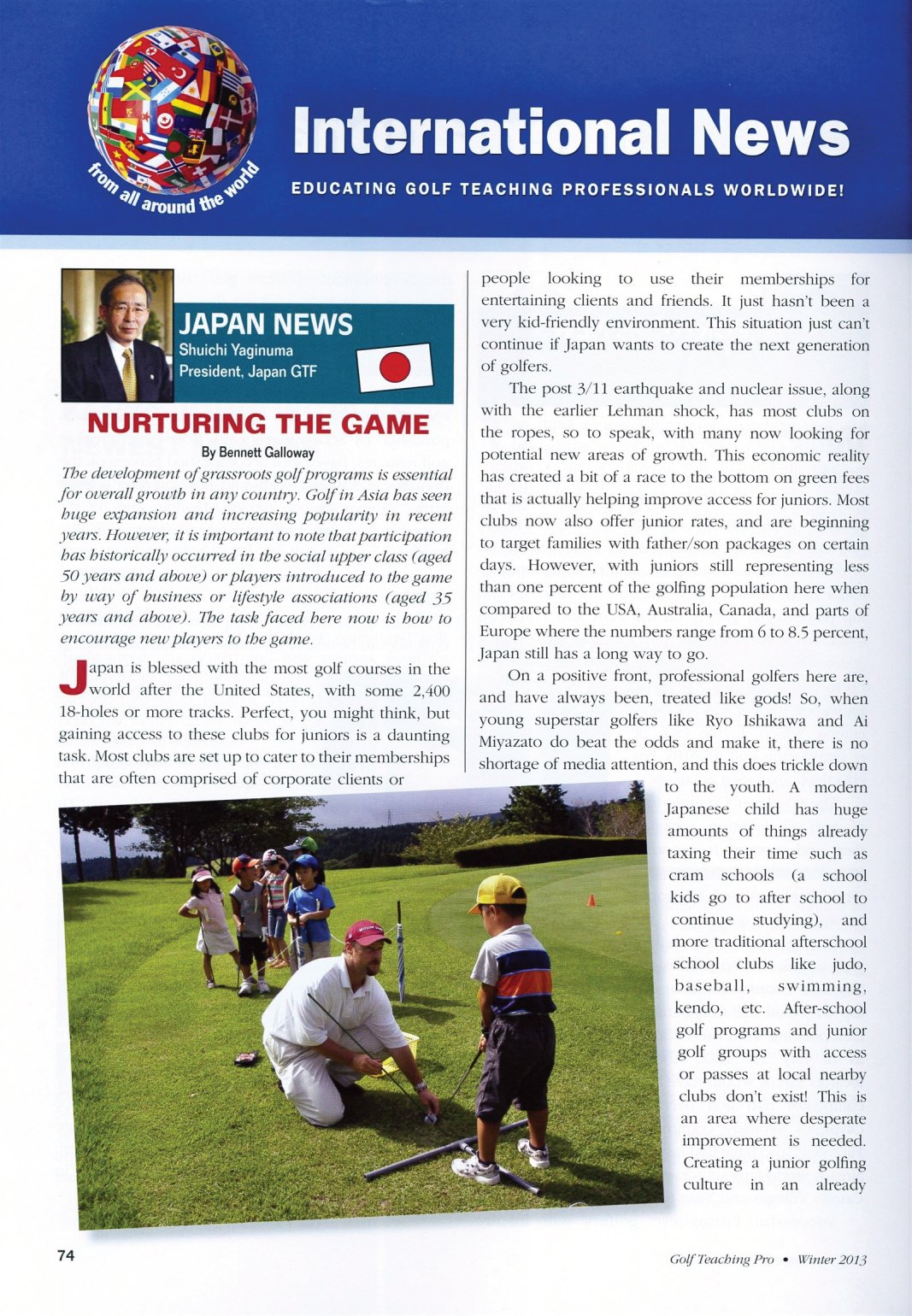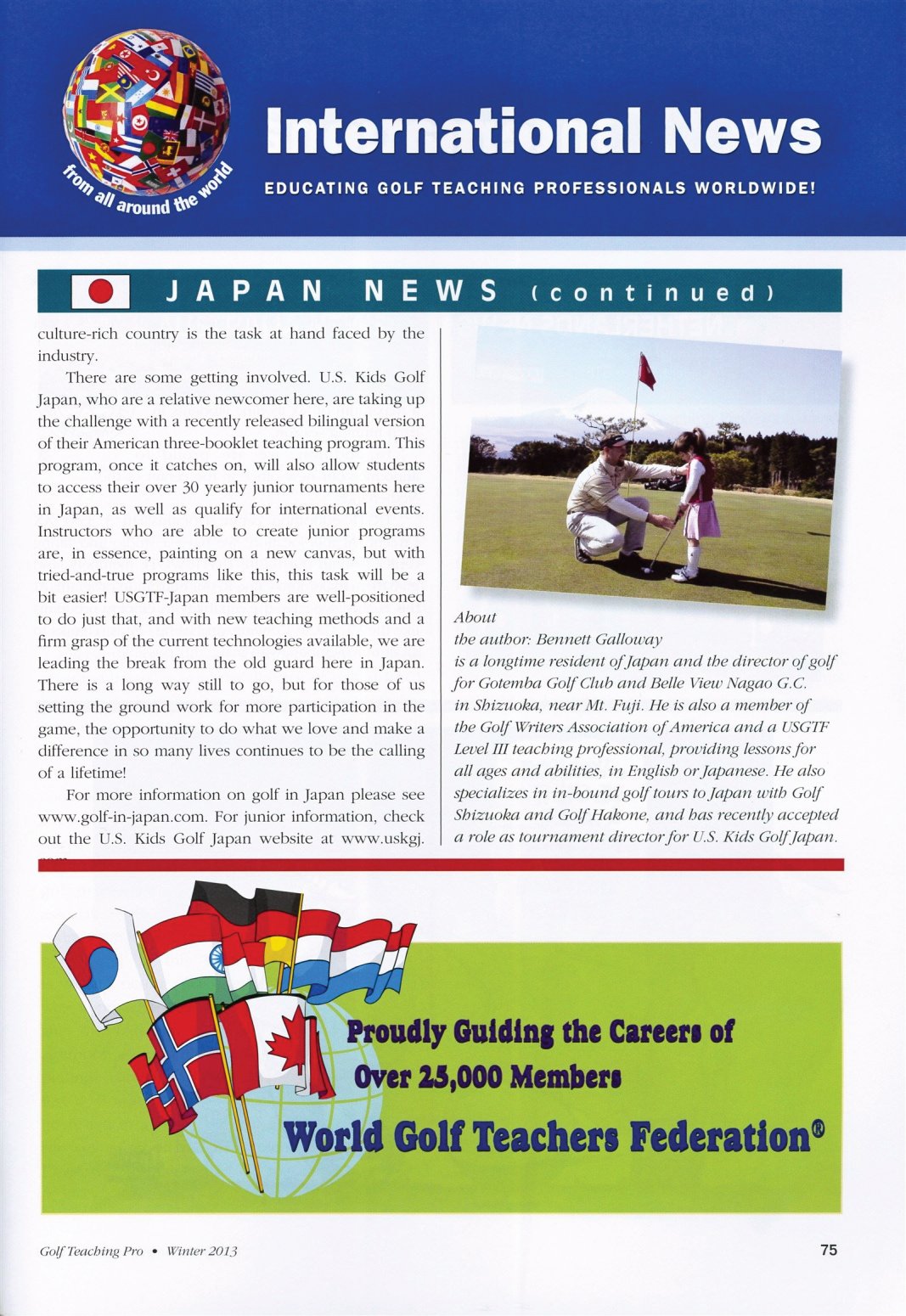 Summer heat has left us and the leaves have all but fallen. Most of you are probably starting to think about retiring your clubs for the season and focusing on winter sports like skiing and boarding. For some of us it's not that easy to turn off the game, and the desire to tee it up lasts all year! In this feature we will explore the options available for the year round golfer as well as helpful tips for your winter game.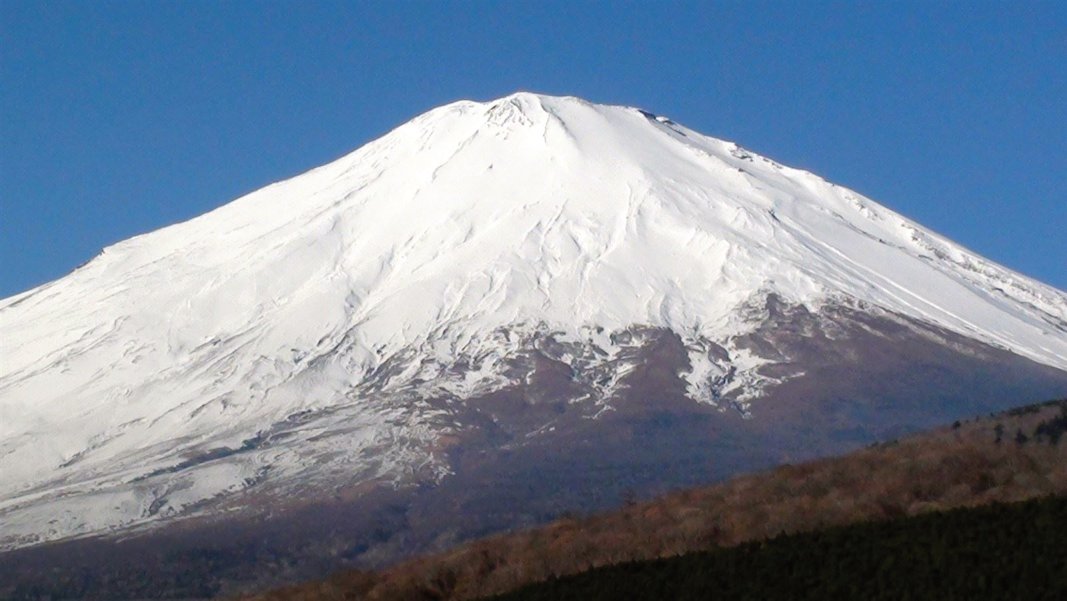 I have been a snowboard instructor and regular member of the Canadian Association of Snowboard Instructors for over eighteen years. 

In fact I am the four hundred and fifty second registered snowboard instructor in Canada, yet even in winter I have an overwhelming, and some times hard for others to understand, desire to play golf! Yes, the game has some addictive qualities, but, "it's all good" as long as you plan and prepare for the elements.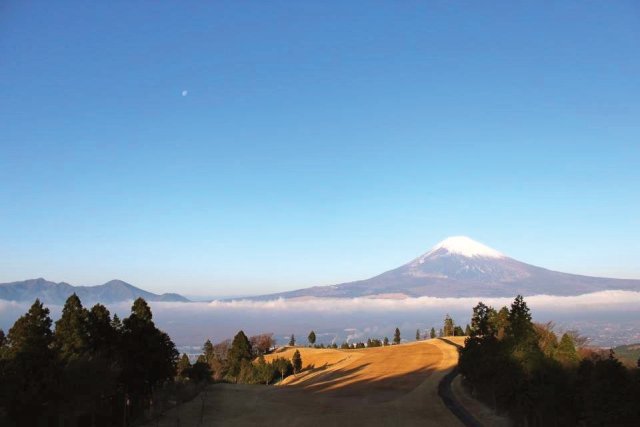 The Winter GameRules: 
In countries that enjoy four seasons the course conditions tend to vary and Japan is no exception. The turf variety here at most clubs for fairways and roughs is a grass called "Korai" or "Creeping Korai" (due to its roots growth pattern). It has become popular here because of its easy maintenance and good overall performance, especially in the heat of the Japanese summers. The down side is that it turns yellow and becomes dormant from mid-November and doesn't begin growing and return to its original color until after the cherry blossoms have fallen in spring. This grass doesn't create clean divots that can be replaced and sand is used to re-fill the holes until the grass grows back in, but in winter that can take months! For this reason Japanese clubs tend to use Winter Rules put forth by their committees. The most popular being six inch, preferred lies which allows you to mark (or face 1 penalty) pick up clean and replace your ball up to six inches from its original position (no nearer to the whole) through the green (everywhere except on the green). This can be a "must" and I recommend checking the clubs rules before starting your round and then using them to increase your enjoyment.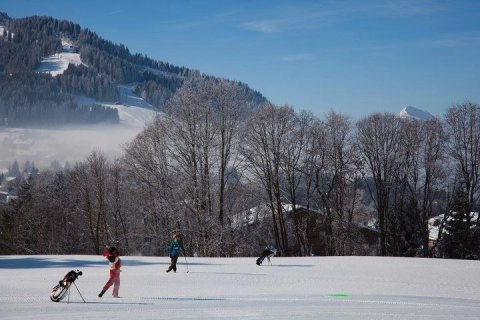 Have you ever hit a ball off the snow? 
Many have, myself included, but under both the R & A and the USGA rules, snow and natural ice are categorized as either casual water or loose impediments, which means if they affect your stance you can get relief under the applicable rules. This is particularly useful in shaded areas where snow may remain longer and you won't look like a "boob" slipping and falling trying to play the ball as it lies! 
Tees: On the Kanto plane it freezes making the tee boxes so hard that you can't even get your tee in! For this they provide a weighted device with a handle on it that punches a hole in the ground allowing you to tee-it-up. "Watch your toes" however, as there are often incidents where people punch holes in their own feet, effectively ending their golf day not to mention ruining a good pair of golf shoes!!!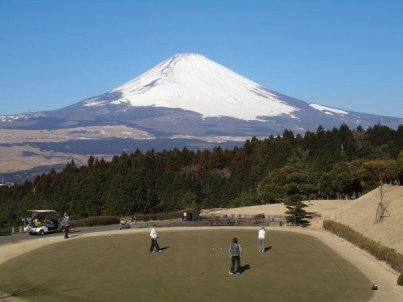 Greens:
 Although you will enjoy incredible run off the tee, the flip side to the coin is uncontrollable bounces produced by any shot that carries directly to the green. This requires you to read all the undulations around the green and plan your strategy to incorporate the various angles you are presented with to find ways of running or bouncing the ball up onto the putting surface. This definitely adds an extra dimension to the game and "yea" with the most creativity wins! 
Winter Specific Gear: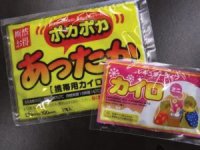 The key is to get your body in a state that allows you to concentrate on the task at hand while not being too restrictive on your swing. Winter underwear or "Long Johns" are perfect for the job as they allow you to move freely and give you an extra layer on your bum that you will be thank full for, should you be sitting on the, inevitably, cold golf cart seat Heating pads have come along way and the ones currently available provide good heat all day long! Most clubs will either offer them for free to players or carry them in their pro shops or at the caddy masters. Ask for "Hotto-kairro" which is the Japanese word used for them. 
Supermarkets and Pharmacies offer better varieties with ones that have adhesive to stick to the place you want the heat the most as well as foot shaped ones for placing in your shoes!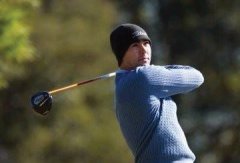 Winter hats are a must as we loose such a high percentage of our body heat from our heads and when the wind whips up you won't freeze your ears! Sunglasses are a good help as well on bright days. The Japanese Korai grass being yellow tends to reflect the suns UV rays and you can receive burns similar to a day on the water (from the bottom up)! Jackets and windbreakers are a no-brainer... but make sure they are not restrictive and allow you to move your arms freely. If possible stick to golf specific wear as they will be designed with purpose. I also try to wear something with a fabric that doesn't make too much noise when I swing and also make sure it is snug around the middle giving me space to move my putter with out catching. "Getting harder these days"!! 

Balls have different compressions. Usually 90% and 100%, but cold balls will not perform to the specs that they are intended (less distance). A softer ball is preferred and there are even balls specifically made for winter golf! Go to your local golf shop and you will probably find them. I make sure to put a few balls in my pocket well before heading to the first tee to allow them time to warm up. That number of balls "in waiting" I suspect will change from person to person! 
Winter Golf Destinations
Should all this seem a little over the top, you can always travel to some great nearby tropical golfing destinations just hours flight from Tokyo. See our
Courses in Micronesia
or go to our Courses and Ratings and check out what's available in southern Kyushu and Okinawa. 
So for those hearty souls out there who are looking for a winter round come check us out, count me in, and I'll bring the rum..:-)   
/