Shopping Cart
Your Cart is Empty
There was an error with PayPal
Click here to try again
Thank you for your business!
You should be receiving an order confirmation from Paypal shortly.
Exit Shopping Cart
県内ゴルフ場、HPで海外へ 御殿場のベネットさん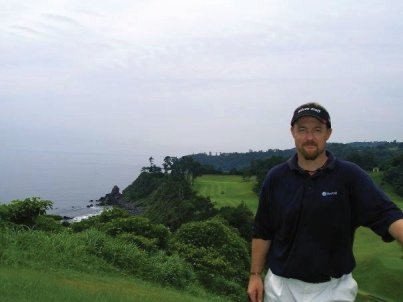 県内のゴルフ場を紹介するサイト「ゴルフ・シズオカ」を運営するベネットさん=御殿場市神山
 御殿場市内でゴルフインストラクターを務めるカナダ出身のベネット・ジョン・ギャロウェイさん(44)が、県内のゴルフ場を紹介するインターネットホームページを開設した。英語のサイトは珍しく、海外からのアクセスも増えているという。ベネットさんは「静岡は富士山があり、ゴルフ施設のレベルも高い。空港の開港が予定される中、多くの外国人に観光資源を知ってもらう機会になれば」と話している。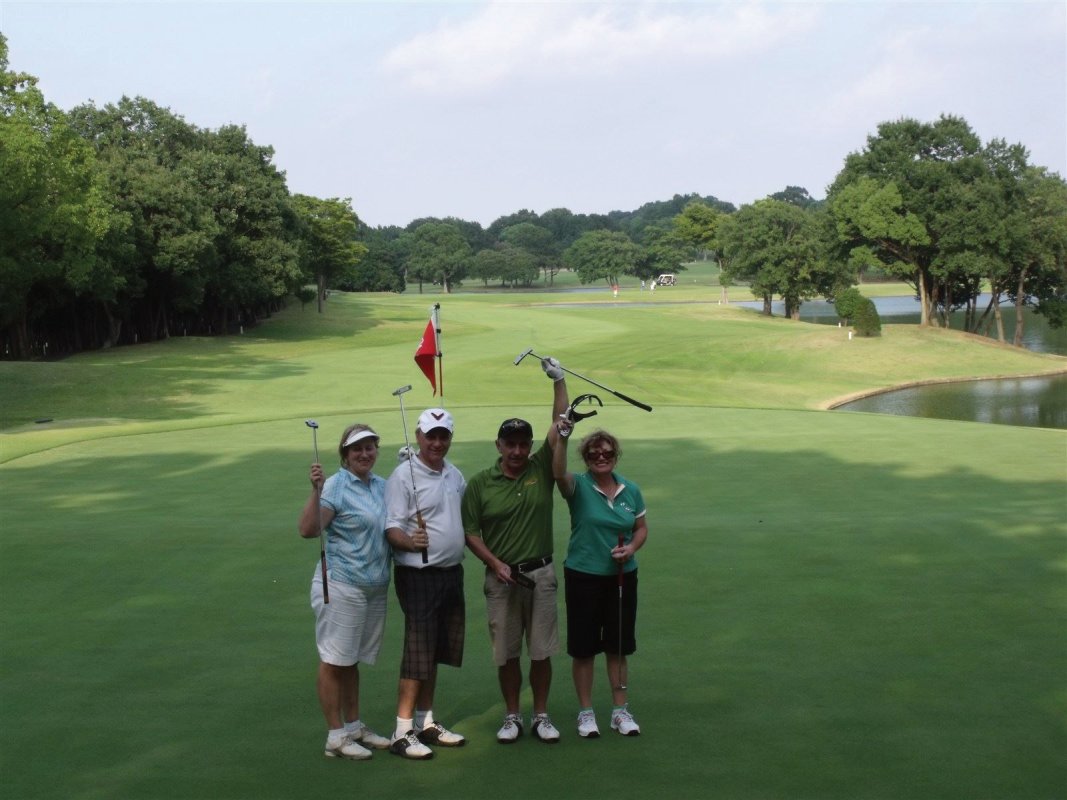 ベネットさんは地元カナダでゴルフやスノーボードに親しみ、ホテルリゾートのマネジャーに。1991年、岩手県安比高原のリゾートの交換社員研修生として来日。各地のゴルフリゾートで学んだ後、御殿場ゴルフ倶楽部(御殿場市)のティーチングプロとなり、現在は同市東山に暮らしている。

 「日本にはゴルフコースが 2500 カ所以上ある。各国の関係者やビジネスマンも訪れるのに、英語の情報発信がほとんどなかった」とベネットさん。外国人旅行者向けアウトドア情報誌のサイト「ゴルフ・イン・ジャパン」を知人と手掛け、昨年には県内の91カ所を網羅した「ゴルフ・シズオカ」をオープンした。

 ゴルフ・シズオカは東・中・西部、伊豆地域に分け、各コースの印象や図、写真のほか、観光スポットを掲載する。今後はコースの予約情報も扱う予定だ。「時之栖」などがある御殿場高原リゾートの営業、マーケティングにも携わるベネットさんは「海外ではゴルフツアーが盛ん。県内の魅力的な観光地や宿泊と組み合わせたゴルフツーリズムをアピールすれば、きっと関心が高まると思う」と見据える。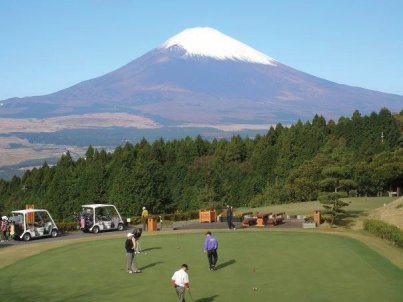 Mt. Fuji Open Golf Tournament & Beer Festival
Date: Sunday September 15th
Location: Gotemba, Shizuoka Japan
Entrance Fee: 15,900 JPY (for golfers)
Just a day trip is FREE..just register to save your seat on the bus!
Come enjoy a great day on the links at Gotemba Golf Club here in Shizuoka Japan.
-We have a full sized bus departing from Tokyo to bring you to the event and back again.
4:45 p.m. - Arrive at Beer Kingdom Festival
7:30 p.m. - Depart for Tokyo from the Festival
9:15 p.m. - Arrival at Oakwood Midtown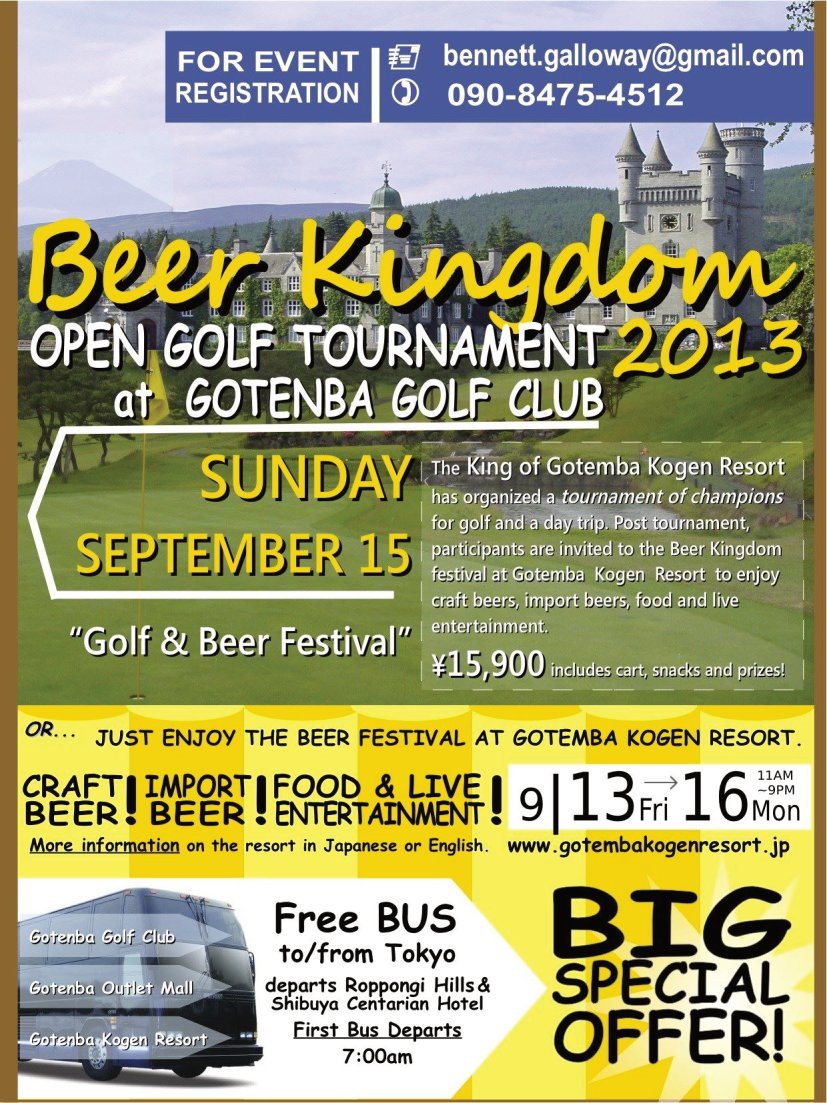 Summer heat has left us and the leaves have all but fallen. Most of you are probably starting to think about retiring your clubs for the season and focusing on winter sports like skiing and boarding. For some of us it's not that easy to turn off the game, and the desire to tee it up lasts all year! In this feature we will explore the options available for the year round golfer as well as helpful tips for your winter game.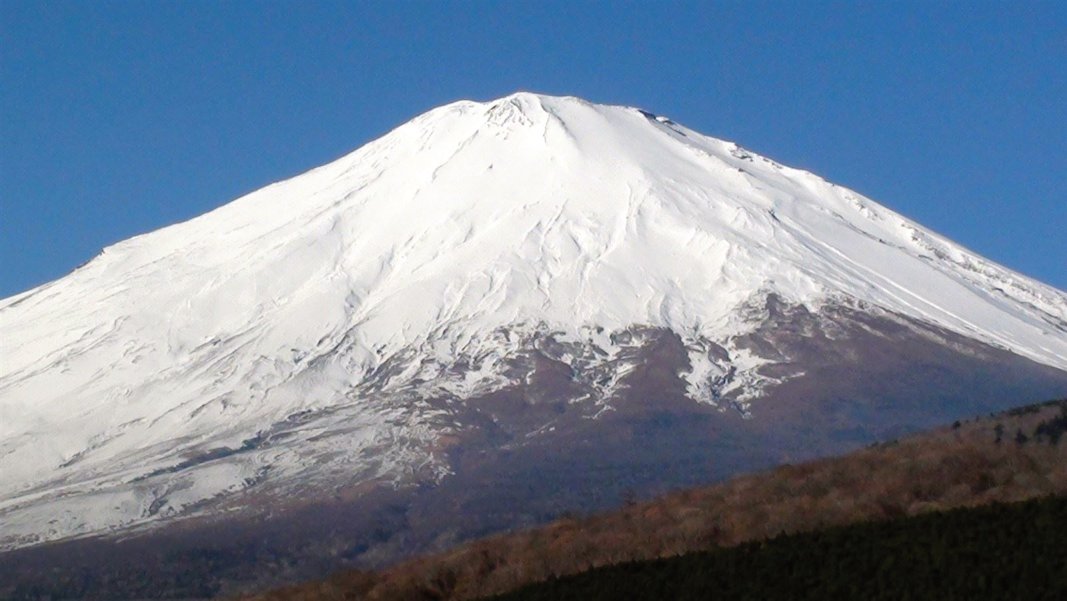 I have been a snowboard instructor and regular member of the Canadian Association of Snowboard Instructors for over eighteen years. 

In fact I am the four hundred and fifty second registered snowboard instructor in Canada, yet even in winter I have an overwhelming, and some times hard for others to understand, desire to play golf! Yes, the game has some addictive qualities, but, "it's all good" as long as you plan and prepare for the elements.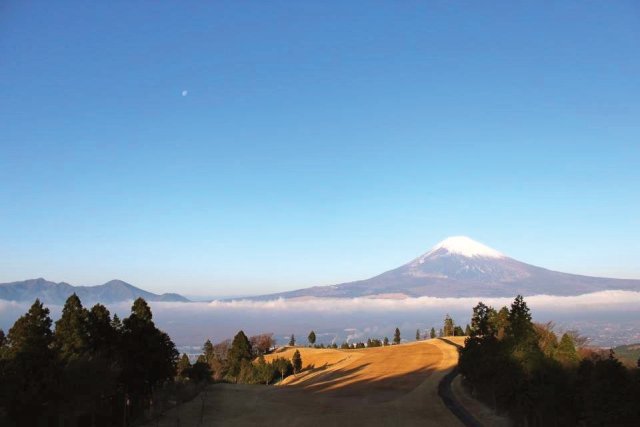 The Winter GameRules: 
In countries that enjoy four seasons the course conditions tend to vary and Japan is no exception. The turf variety here at most clubs for fairways and roughs is a grass called "Korai" or "Creeping Korai" (due to its roots growth pattern). It has become popular here because of its easy maintenance and good overall performance, especially in the heat of the Japanese summers. The down side is that it turns yellow and becomes dormant from mid-November and doesn't begin growing and return to its original color until after the cherry blossoms have fallen in spring. This grass doesn't create clean divots that can be replaced and sand is used to re-fill the holes until the grass grows back in, but in winter that can take months! For this reason Japanese clubs tend to use Winter Rules put forth by their committees. The most popular being six inch, preferred lies which allows you to mark (or face 1 penalty) pick up clean and replace your ball up to six inches from its original position (no nearer to the whole) through the green (everywhere except on the green). This can be a "must" and I recommend checking the clubs rules before starting your round and then using them to increase your enjoyment.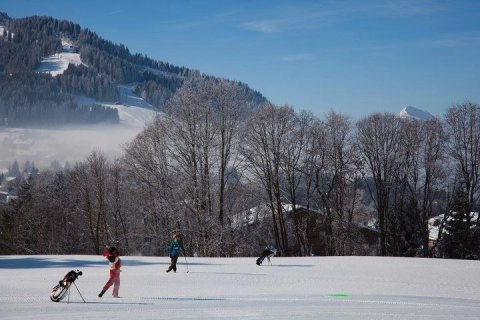 Have you ever hit a ball off the snow? 
Many have, myself included, but under both the R & A and the USGA rules, snow and natural ice are categorized as either casual water or loose impediments, which means if they affect your stance you can get relief under the applicable rules. This is particularly useful in shaded areas where snow may remain longer and you won't look like a "boob" slipping and falling trying to play the ball as it lies! 
Tees: On the Kanto plane it freezes making the tee boxes so hard that you can't even get your tee in! For this they provide a weighted device with a handle on it that punches a hole in the ground allowing you to tee-it-up. "Watch your toes" however, as there are often incidents where people punch holes in their own feet, effectively ending their golf day not to mention ruining a good pair of golf shoes!!!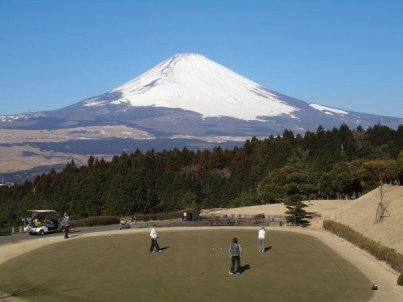 Greens:
 Although you will enjoy incredible run off the tee, the flip side to the coin is uncontrollable bounces produced by any shot that carries directly to the green. This requires you to read all the undulations around the green and plan your strategy to incorporate the various angles you are presented with to find ways of running or bouncing the ball up onto the putting surface. This definitely adds an extra dimension to the game and "yea" with the most creativity wins! 
Winter Specific Gear: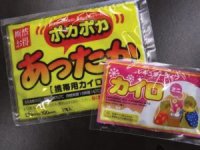 The key is to get your body in a state that allows you to concentrate on the task at hand while not being too restrictive on your swing. Winter underwear or "Long Johns" are perfect for the job as they allow you to move freely and give you an extra layer on your bum that you will be thank full for, should you be sitting on the, inevitably, cold golf cart seat Heating pads have come along way and the ones currently available provide good heat all day long! Most clubs will either offer them for free to players or carry them in their pro shops or at the caddy masters. Ask for "Hotto-kairro" which is the Japanese word used for them. 
Supermarkets and Pharmacies offer better varieties with ones that have adhesive to stick to the place you want the heat the most as well as foot shaped ones for placing in your shoes!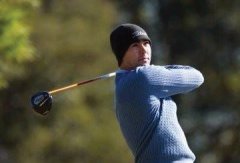 Winter hats are a must as we loose such a high percentage of our body heat from our heads and when the wind whips up you won't freeze your ears! Sunglasses are a good help as well on bright days. The Japanese Korai grass being yellow tends to reflect the suns UV rays and you can receive burns similar to a day on the water (from the bottom up)! Jackets and windbreakers are a no-brainer... but make sure they are not restrictive and allow you to move your arms freely. If possible stick to golf specific wear as they will be designed with purpose. I also try to wear something with a fabric that doesn't make too much noise when I swing and also make sure it is snug around the middle giving me space to move my putter with out catching. "Getting harder these days"!! 

Balls have different compressions. Usually 90% and 100%, but cold balls will not perform to the specs that they are intended (less distance). A softer ball is preferred and there are even balls specifically made for winter golf! Go to your local golf shop and you will probably find them. I make sure to put a few balls in my pocket well before heading to the first tee to allow them time to warm up. That number of balls "in waiting" I suspect will change from person to person! 
Winter Golf Destinations
Should all this seem a little over the top, you can always travel to some great nearby tropical golfing destinations just hours flight from Tokyo. See our
Courses in Micronesia
or go to our Courses and Ratings and check out what's available in southern Kyushu and Okinawa. 
So for those hearty souls out there who are looking for a winter round come check us out, count me in, and I'll bring the rum..:-)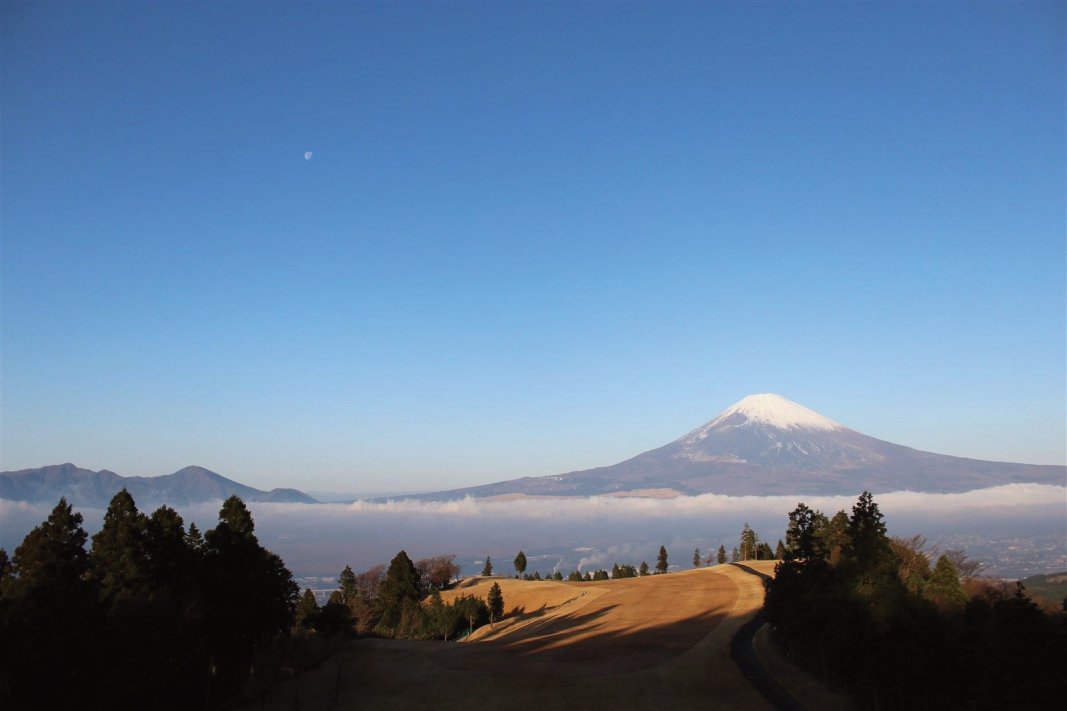 Business is challenging here in the Asia Pacific region, so when you decide to take some time out to relax, nothing is better than a ready golf destination with a panoramic view of Mt. Fuji to get your Bubba on!Just a little over an hour from the bustling Tokyo city life lies an area rich with natural host springs, wide-open countryside and 91 of Japans 2,400 golf courses. The Gotemba valley in Shizuoka Prefecture is home to the southern half of Mt. Fuji and easily accessible from Tokyo by car or train.
This resort rich area has undoubtedly the best views of the famous mountain that you'll find anywhere in Japan. The land gently sloping away from Mt. Fuji beckoned for golf course construction. And, Japan's resort industry called with some of the world's most famous course designers to accentuate this most spectator and memorable scenery. Match this with the unique culture and fine local cuisine and you've got a must experience new golf destination.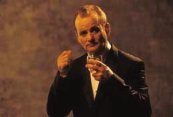 Golf in this region got its big bump in 2003 when Hollywood got in the act with Bill Murray's Oscar winning movie 'Lost in Translation' depicting a famous actor who found himself in Tokyo with far too much time on his hands. One of the things he did to pass the time away was tee-it-up right here next to Mt. Fuji. Although just a brief scene, this strangely romantic, yet solitary image of a of a guy pulling his golf bag on a trolley, alone, yet some how not alone as Fuji kept watch over him, left a lasting impression with audiences around the world.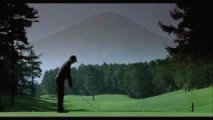 The Gotemba valley, as with the rest of Japan, has just begun to realize the benefits of international golf tourism and strong domestic demand has helped round out the areas offerings. Accommodations are plentiful, with most offering natural hot springs on premises, traditional Japanese fare and even shuttle services from the local train stations. If you aren't proficient in the Japanese language there are bi-lingual guides and tour operators in the area.Nothing is more memorable than hitting a perfect tee shot straight down the fairway with Mt. Fuji so close it literally towers over you! So should you find yourself in Tokyo with time on your hands, don't hesitate to take a day out of your life for an unforgettable golf get-a-way.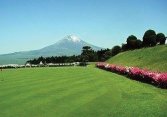 Must Play Courses:
Gotemba Golf Club and Belle View Nagao G.C.: If it's golf with a Mt. Fuji view you seek, these are two world class, fun and challenging mountain courses with stunning views all the way from the pacific ocean, on view to the south, to nearby Mt. Fuji straight ahead. Don't take our word for it; even a local TV station has permanently mounted a camera next to the upper clubhouse to capture the scenes full time! These two well-groomed courses are side by side with separate clubhouses and combine for a total of 36 holes all perched on a hilltop between the famous Hakone and Gotemba valleys. Easily accessible from Tokyo, they make for a perfect day trip providing a choice blend of fresh air, the Japanese countryside and breath-taking views. Bring your camera and get ready for a once in a lifetime round.
Name: Gotemba Golf Club and Belle View Nagao G.C. (golf with a Mt. Fuji view)
Designers: Shiro Akaboshi and Kazuo Terasawa (respectively) 
Year opened: 1971 and 1986 (respectively) Gotemba Golf Club 18 hole par 72, back tee yardage 6,345 regular men's 5,980 yards. Belle View Nagao G.C. 18 hole par 71, back tee yardage 6,019 regular men's 5,288 yards.
See: 
www.gotembagolf.com
 and 
www.belleviewn-gc.com
Tel: GGC: +81 550-87-1555, BVN: +81 550-87-1112
*Reservations in English call: +81 90-9892-4319
Kawana Hotel Golf Course
If golf with and ocean view is what you are looking for, and you are not overly price sensitive, the Kawana hotel's Fuji and Oshima 18's are two of the finest coastal links courses you'll find anywhere in the world and are accessible from Tokyo by train on the Izu peninsula. Situated on a rocky point the Fuji course firmly ranks 35th in the world for 100 best courses outside the United States, with its elevated greens and sunken fairways, often bordering 100 foot cliffs with the pacific ocean crashing below, you are guaranteed and breathtaking and memorable round. Its hotel adds to the entire experience having opened its doors in 1936, it has played host to an array of prominent people including; Marilyn Monroe and Joe DiMaggio (during their honey moon), John Wayne, Japanese Emperors and Empresses, the King and Queen of Sweden, Boris Yeltsin and even Golf Royalty; Gary Player often comes here to relax and tee-it-up!
Name: Kawana Hotel Golf Course (Fuji course) (golf with ocean views) 
Designer: C.H. Alison
Year opened: 1932 for the first 9 holes and 1936 for the second
18 hole par 72, back tee yardage 6,691, regular men's 6,187yards
Location: Near Ito on the Izu Peninsula in Shizuoka Prefecture
Access: Trains available from Tokyo with one transfer needed at Atami (approx. 1hr 40min if you use the bullet train) plus a 20 min taxi ride
Web: 
www.princehotels.co.jp/kawana
Tel: +81 557-45-1111
Area Tips:


Getting There:
Train:
 there are two direct trains to the Gotemba Valley from Shinjuku daily. For train Schedules try the Hyperdia site and enter your train station and Gotemba as your destination.
See: 
http://www.hyperdia.com/en/
Bus: highway busses (Odakyu highway bus) depart every 30 min on the hour all day. Estimated time 1hr and 30min.


Area Tour Operator:
Golf Shizuoka:
 for info in English on all 91 courses in the area along with turnkey planned tours and custom packages, you might want to check them out! So you don't get Lost in Translation!
See: 
http://www.golf-shizuoka.com/index.php
Shopping:
Gotemba Premium Outlets: Just minutes from the Gotemba Interchange and surrounded by golf courses, You can spend a full day here and there's even a Callaway and Taylormade shop with Japan only clubs on offer. Enjoy shameless shopping and at 164 brand shops and restaurants. The Outlet is bordered on either side by Fuji C.C. and Ashigara Shinrin C.C. so they even had to put up nets to stop stray balls from upsetting the shoppers!
See: 
http://www.premiumoutlets.co.jp/en/gotemba/
Motorsport:
Fuji International Speedway: surrounded by golf courses with Higashi-Fuji C.C., Fuji Green Hill G.C. and Fuji Health & C.C. literally bordering its grounds and track! Enjoy a variety of racing classes from F-1 to classic car races.
See: 
http://www.fsw.tv/
Distillery Tour:
Kirin-Seagram Gotemba Distillery: for whiskey lovers a tour here is a must! At an altitude of 600m the distillery is located in a large ancient forest on the side of Mt. Fuji. The mild temperatures, moderate humidity and abundant pure spring water from deep beneath Mt. Fuji make for the ideal location for distilling whisky. Enjoy seeing the production of whiskeys during a factory tour with a video presentation and a ten-minute all-you-can-drink tasting session…that's 60 seconds 10 times!! Founded in 1973 by Kirin Seagram Co. the facility is also right next to Fuji Kokusai G.C., Fuji Oyama G.C. and Taiyo C.C.!
Get your friends together and come over for a golf vacation of a lifetime!
A Pebbles' Throw from Tokyo
Kawana Hotel & Golf Club
The Pebble Beach of Asia and Less than 2 hours from Tokyo!

If you've heard rumors of a fantastic, mysterious hotel and golf links in Japan called Kawana, this is it. The Kawana hotel opened its doors in 1936 and features two of the finest coastal links courses you'll find anywhere in the world. In its heyday the resort was a buzz with valets scurrying about in service of their cherished customers who comprised the most discerning of Japanese and overseas society.

Marilyn Monroe and Joe DiMaggio strolled leisurely along the hotel's paths and lawns during their honeymoon stay here in 1954 and even John Wayne enjoyed the panoramic ocean views over morning coffee from the Sun Parlor. The elegance and ambience remains today and the Prince Hotels and Resorts group has ensured that the tradition of fine service and excellence goes on.
Fine dining is available at the various restaurants including authentic seasonal French cuisine served in the Main Dinning Room with set menus ranging from 12,000yen to 22,000yen. (try the Abalone steak that comes with the best sauce in the world!!) Also recommended is the Grill Room on the lower level with fresh fish and seafood and priced at about half that of the Main Dinning Room. If you forget your jacket for dinner they have loaners and are very discreet in passing them to you! Oops! Ties are not required.
Guests are treated to an experience of "old world splendor" that will have you feeling as though you've traveled back in time to a forgotten era. Over the years many prominent people have stayed here including multiple Japanese Priministers, Japanese Emperors and Empresses, the King and Queen of Sweden, Boris Yeltsin in 1998, even Golf Royalty…Gary Player came to relax and tee-it-up just a few months ago!
The Hotel offers a combination of Western and Japanese style rooms and a stay here in a single occupancy room (twin bed) is between 29,400yen and 54,800yen and double occupancy room between 32,400yen~ 57,800yen. Should you find your self in need of their finest accommodations available, the Imperial Suite goes for 288,800yen.
The Courses
The Fuji Course

18 hole par 72, Blue tee yardage 6691, white tee (regular men's) 6187yards.
Ranked 35 in the world for 100 best courses (outside the United States) and always impeccably groomed and maintained, the Fuji course offers breathtaking views of the ocean and the Sagami Bay with Mt Fuji in the back ground. Designed by world famous architect C.H. Alison in 1932 the first 9 holes opened along with the main hotel in 1936 with the full 18 completed the following year. The location couldn't be more dramatic with elevated greens and sunken fairways most bordering 100 foot cliffs with the Pacific Ocean crashing on the rocks below.
This proximity to the sea causes the courses playing characteristics to change rapidly when the prevailing winds whip up, but most are happy to have the breeze during Summer Months as carts are not allowed on this course and the changes in elevation can make for a fairly hard walk. The course hosted its first professional tournament in 1939 along with its first International, the 3 World Amateur Golf Tournament, in 1962. It's challenge and quality brought in a regular men's JPGA tournament from 1981 until 2004 and currently hosts the Fuji-Sankei Ladies Classic Tournament yearly in April.
No handicap certificate is required to play the Fuji course, however access is "only available to hotel guests" with a weekday round costing 26,500 yen and Saturdays/ Sundays and holidays 33,900yen including caddy, tax and all applicable service charges. A round here will require you to dig rather deeply into your pockets, but you won't be disappointed. The price structure guarantees that the course has limited access and is therefore always in pristine condition and awaiting your perusal.
The Oshima Course
18 hole par 70, white tee (regular men's) 5711yards.

The Kawana legacy began with the Oshima Course. Designed by Komyo Otani and named after the island off the coast that can be seen from most holes, the Oshima course was completed in 1928 a full 8 years before the hotel opened its doors for business. It was reportedly built "with out" the permission of the owner and founder, the Baron Okura, while it was still a private estate. Having spent his student days in England and realizing the benefits it would bring to the relaxed country atmosphere, luckily he allowed it to remain.
It's a fascinating course built with respect to the natural contours of this hilly coastline with comparable quality and ocean views to its sister Fuji course. The Designer masterfully worked with the lie of the land to create a course that feels like it existed there quite naturally. This is partly due to the technology of the day when the course was created, but minimal amounts of earth were moved. Carts are available on this course and it is a self play only style of play i.e. no-caddies with the price of the cart included in your green fee.
Each hole has been given its own nick name with highlights like the 15 par 3, that requires you to carry your ball over a ravine, named "S.O.S", or the 13 par 4 bordered by the ocean down the left side and accurately named "Good-bye" in memory of your shiny new golf ball as it cascades down into the abyss. A round here will run you 21,000yen on weekdays and 28,400yen on weekends and holidays including cart and tax. The Oshima course is a true pleasure to play with each hole having its own personality in this postcard like coastal setting.  
The Area and Activities
The Izu peninsula is a renowned destination for expats with its semi-tropical white sand beaches, hot springs and beautiful natural scenery. It's a great place to un wind from the hustle and bustle of Tokyo life. What most people don't know is that the Izu peninsula is also home to 21 beautiful golf courses including the world renowned Kawana Hotel Golf Courses.
The Ito area alone has 4 courses nearby and is salted with hot springs, pensions and great beaches featuring some of the best surfing and body boarding in Japan near Atagawa and Shirahama. Other popular activities include rock-climbing, hiking, scuba diving at nearby Futo, and even paragliding!

If you prefer sightseeing the suspension bridge at Jogasaki offers incredible views of the rocky coastline and the ocean below and is a part of the Izu Oceanic Park which has in contrast, sandy beaches, swimming pools and diving. The ropeway lifts at Mt. Omuro and Komuro are an easy way to take in mountain top panoramic 360 deg. views with less effort.
A nearby Japanese Inn "Hanafubuki" offers a stay and play package for Kawana's Ohshima course and you can find further info on it by logging onto the Golf-in-Japan.com site under "Reservations" or by going to the OutdoorJapan.com sites "Places to Stay" and clicking on Shizuoka for this and more great places to stay on the Izu peninsula!
Getting There
By Train: take the Tokaido Shinkansen (45min) to Atami station, then switch to the Ito line and ride it to Ito Station (25min) then take a 15min taxi ride.(approx. 3000yen)
By Car: from Tokyo, take the Tomei Expressway to the Atsugi interchange, exit and get on the Odawara-Atsugi road that leads to the Manazuru road that then intersects with coastal route 135 that passes near the Hotel. *Car navigation input tel. # 0557-45-1111.  
Reservations
For reservations at the Kawana Hotel and tee times at the golf courses log onto
www.princehotels.co.jp/kawana
  or call 0557-45-1111 directly and experience the best of traditional Japanese service and some of the worlds finest links courses. If you have any questions ask for Kato-san the hotels English speaking Public Relations Manager and hotel history buff.
Also for further information on this and other beautiful courses in the Izu area check out the new
www.golf-shizuoka.com
site
The Money Hole
Hole 15
Kawana Hotels Fuji Course
Par 5 / 470 yards

With a 100 foot drop to the rocky shore line to your left, this beautiful and challenging par 5 requires you to take a leap of faith and shoot out over the ocean letting the prevailing winds bring you back to the safety of the fairway. Play it conservatively and the bunkers down the right side are waiting to penalize you. Strategically places pine trees line the cliffs all the way to this 2 tiered shallow green. A stunning golf hole you've got to try!
Bennett J. Galloway
/